Unbiased Carpet Buying Guide for Homeowners HFG

Home Sitemap Foot-Traffic Test Preferred Dealers
Slate Floor Tile - How To Select Slate Flooring
2021 by Alan Fletcher - Flooring Expert and Consumer Advocate
Slate Flooring – It's Ancient Beginnings can be a great addition to your home.
Millions of years ago, sediments that collected on the bottom of our planets oceans and riverbeds gradually became compressed and heated creating huge deposits of slate and shale that we quarry today.
Slate makes a very durable flooring product and is very popular.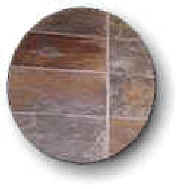 Each piece of slate has its own unique markings, texture and color and there are no two pieces exactly alike. For this reason you should not expect your new slate floor to be of uniform color or texture. Slate is very durable but is not as hard as ceramic tiles or granite.
Slate can be scratched if heavy or sharp objects are scraped or dragged over it and it can be cracked or chipped if not installed properly on a solid substrate of exterior grade plywood or a concrete slab.
Slate is available in many colors including black, Gray, Blue gray, Green, Purple and Red.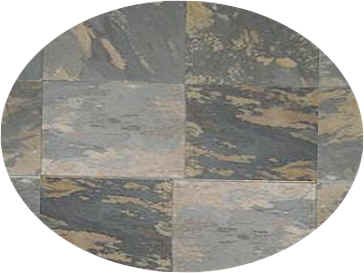 Slate is a good choice for Kitchens, bathrooms, entryways, walkways and patios. Slate is naturally stain resistant, water resistant and is has a non-slip surface.
Slate should be sealed with an acrylic sealer to protect the surface from stains, increase water resistance and reduce color fading.
Slate tiles come in a variety of sizes including squares ranging from 12" to 24" wide and rectangles ranging from 12" x 6" to 16"x 8". Thickness ranges from 7/16" to ¾".
Grout joints should be 3/8" for the 12"x12" and 1/2" for the 16"x16". A sanded grout is recommended for 1/8" to 1/2" joints and a Saltillo Grout for joints widths of 1/2" to 1 1/4".
Installing Floor Tiles - What Homeowners Need to Know
Alan's Preferred Flooring Dealers
It's getting harder to find a reputable carpet dealer these days! That's why I've created my own special hand-picked list of Locally owned Carpet Dealers who offer Free estimates, have fair prices, hire knowledgeable staff, Do honest measuring and use qualified installers. See who I Recommended Near You!